In the average American home, every person uses about 82 gallons of water a day. With that in mind, it isn't surprising that homeowners want to know more about the water they're using. When families know what's in their water, they can make adjustments to their supply using treatment methods. Testing is the only way to obtain this information. However, most homeowners have a hard time deciding between at-home test kits and professional-grade laboratory water testing. Below, we'll discuss the differences between each so you can make an informed decision.
How Does a Home Test Kit Work?
Every home test kit comes with chemical strips that can be submerged in water. If contaminants such as lead, pesticides or bacteria are identified, the strip changes color. These kits usually come with a chart that reports the level of contamination present. All you have to do is sample your water and compare the colors to the chart to make a determination.
The average homeowner often opts for a home test kit because it's easy and inexpensive. In fact, they're often less than $50. Additionally, in most cases, the results are instant. It is worth noting, however, that only some kits test for multiple contaminants. There are tests that can only identify 1 substance at a time, so be sure to choose the right kit before making a purchase.
The biggest drawback of home test kits is their low level of accuracy. For instance, a test could report a higher or lower level of contamination than there actually is. It's important to remember that test kits can only offer a limited assessment. They can't answer any questions you have or offer you further advice.
What Does Laboratory Water Testing Cover?
Professional water testing is completed in certified labs that provide highly accurate results. They also cover a much wider variety of contaminants. An expert can either visit your home to perform a test, or you can submit a sample to a facility. After you receive your detailed report, a professional will guide you through your results.
Homeowners choose laboratory water testing when they want a comprehensive look at their water supply. They may also want to speak with a water specialist, ask questions and receive information about possible treatment options. However, testing may take a little longer, and pricing will depend upon the water center you select.
Why You Should Get Laboratory Testing
At-home kits can be helpful if you're in a bind. As an example, say the water in your house tastes strange, and you're concerned about your family's immediate health. You may want to grab a home testing kit to determine how urgent the problem is. In this situation, an at-home kit can be a good first step.
With that being said, home testing will only take you so far, and you'll never know if the result is 100% correct. Laboratory testing, meanwhile, will provide you with exact results you can count on. That's why we recommend laboratory testing every time.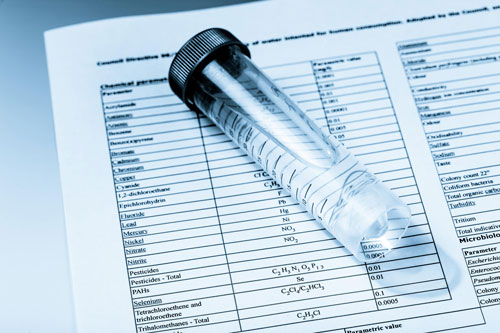 How Our Water Testing Works 
At Atlantic Blue Water Center, we don't just sell water treatment products. We also have our own full-service laboratory where we perform water testing. Our technicians are certified, and you can rely on them to identify any harmful bacteria or chemicals in your supply. With our testing service, you don't even have to schedule a home visit. You can bring a sample directly to us, and we'll test it on-site. Our experts can also help you make an informed decision when it comes to water treatment and maintenance.
Better yet, our basic laboratory testing is free for both residents and commercial business owners. Our experts can also help you make an informed decision when it comes to water treatment and maintenance. We know how alarming it can be when something is wrong with your water supply. That's why we treat every case on an individual basis. When you partner with Atlantic Blue Water Center, we want you to feel confident in your water quality.
Are you ready to schedule your water test or bring us a sample? For more information, contact us today.
Learn More about Our Laboratory Water Testing at Atlantic Blue Water Center
If you want to reduce your exposure to harmful contaminants, it's vital to filter your drinking water. At Atlantic Blue Water Center, we help our customers remove toxins and contaminants from their water supply. If you want to learn about the contaminants currently in your home's water, bring a sample to our storefront, and our lab technicians will perform an in-depth assessment of its quality.
We provide water treatment solutions like reverse osmosis for homeowners that want a cleaner water supply. We're also focused on providing additional education on water treatment, water quality, and issues associated with water contaminants. Call us at (410) 751-9200 if you'd like more information about our services.