There are many benefits to owning a private well. Local water treatment centers often use dangerous methods to treat water, including the addition of chemicals such as aluminum sulfate and ferric chloride. By using a well, you don't have to worry about these contaminants in your supply. However, you are responsible for testing your water regularly to ensure other pollutants aren't harming you and your family. You deserve access to safe, healthy water for drinking, cooking and bathing. That's why knowing when to get your water tested is so important. Read more to find out when you should test your well water with our experienced specialists at Atlantic Blue Water Center.
How Often Should You Test Your Well Water?
We recommend you have your well water tested annually to ensure it is safe to drink. You should also be on the lookout for any warning signs that could indicate you need a water test sooner. Here are a few clues to be aware of:
Strange odor
Bad or off-putting taste
Discolored or cloudy water
Skin or tooth contamination
Mineral build-up on fixtures and clothing
Local problems with water pollution
If you notice any of these indicators, don't wait to act. Even if you have already had a test done in the past year, you should follow through in case treatment is required. At Atlantic Blue Water Center, we will conduct thorough testing and offer a complete solution. Then, you can get back to drinking the pure water you love.
What Contaminants Can Show Up in Your Well Water
When you're concerned about your water supply, picking up a testing kit at your local store can seem like an easy fix. Unfortunately, these kits often miss important contaminants, viruses and bacteria. False information can be hazardous, especially when it comes to the water you rely on each and every day. A certified laboratory will provide you with accurate results, and afterward you can rest assured knowing professionals are on your side. If you're wondering what contaminants we typically see, here is a list of the most common water pollutants:
Lead from plumbing fixtures in the home
Atrazine and other various herbicides
Pathogens and coliform bacteria
Arsenic, radon and cadmium
Nitrates and nitrites
Barium, excessive sodium, strontium
If you are worried about any of these contaminants or if you have a specific problem, we can address it. Our in-depth analysis will give you the peace of mind you need moving forward. No matter what pollutants show up in your water, we can offer you the swift help you need. For any questions, fill out a form on our website or give us a call today at (410) 751-9200.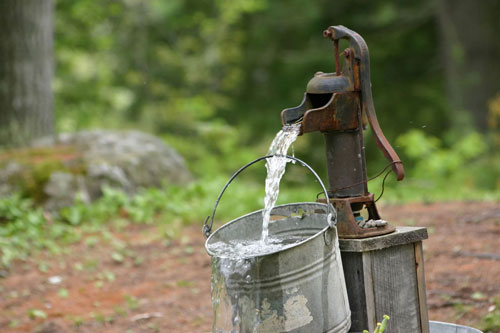 How to Eliminate Well Water Contaminants
The first step towards eliminating well water contaminants is having a water test performed. At our treatment center, the only thing you have to do is bring us a water sample. Did you know that our testing is completely free? There's no easier way to find out what's hiding in your water. From there, we will formulate a comprehensive and affordable plan to mitigate the issue.
In addition, there are some things you can accomplish at home to prevent water contaminants from affecting your water supply. Completing proper maintenance is key way to protect your water. This way, you'll only have to conduct a water test once a year rather than sending in a sample every time you see something concerning. Know what to do and what behaviors to avoid so that you can rely on your water supply in the long-term.
Consider installing a cap or seal for your well
Do not put any waste or hazardous materials in your well or septic system
Perform septic system maintenance throughout the year
Do not use agricultural pollutants or pesticides around your well
Give your well a once-over regularly to check for cracks or any other damage
Treat the ground around your well so it directs runoff away from your well
Maintain your home heating oil tank and ensure the oil is stored correctly
If there are any changes to your local groundwater or if there is new land development nearby, call Atlantic Blue Water Center for a test
Private well owners are usually more than satisfied with their water supply. Like any system in or around your home, however, it needs to be preserved with care. We know you're busy and have enough on your plate as it is. Adding a yearly water test to your to-do list is a simple thing to do, and once as you contact us you'll be in good hands. With our specialists, you can count on friendly, outstanding service and reliable, effective solutions.
Make Sure Your Water Supply Is Safe to Drink with Atlantic Blue Water Center
We provide water treatment and water softening solutions for homeowners that want a cleaner water supply and water that is free from hazardous carcinogens that can contribute to increased cancer risk. We're also focused on providing additional education on water treatment, water quality, and issues associated with water contaminants. Call us at (410) 751-9200 to schedule your in-home water testing appointment today.