Staying hydrated is important whether you're at home or at the office, and there are many different options to get the job done. One of the most convenient and healthy ways to hydrate is with bottleless water coolers. These are versatile solutions to many common problems with traditional water coolers. Here's what you need to know about the advantages of bottleless water coolers.
What Are Bottleless Water Coolers?
Bottleless water coolers are designed to be hooked up with the water supply for your home instead of connected to a large bottle with clean water. When the water is taken from your pipes, it will pass through numerous filters. These will get rid of contaminants and make sure that the water is safe to consume.
Once water is passed through filtration systems, the water will be placed into an internal storage tank that you can access on-demand. This makes it easy to always have water ready when you want some without the need for unwieldy bottles. Most bottleless water coolers also come with options to meet the needs of you and your employees or family, including hot water or cold water.
What Are the Benefits of a Bottleless Water Cooler?
Bottleless water coolers are particularly convenient, and they also require less of an ongoing commitment than purchasing separate bottles every time you are running low. Some of the biggest benefits of investing in bottleless water coolers include:
Most coolers offer both hot and cold water, which makes it easy to replace an electric kettle that you might also keep for employees who like to make tea.
There is an easy installation process when you work with a professional.
You will not need to continuously re-install heavy water bottles on your water cooler or worry about ordering them to make sure that you have enough.
Bottleless water coolers take up less space than traditional water coolers because you do not have to store bottles anywhere or set aside as much space.
You will enjoy an unlimited water supply without changing out the water bottle.
Bottleless coolers are more sustainable, as they do not require plastic bottles to replenish the water supply or make you coordinate recycling to take care of your extra bottles.
You will save money over time compared to a regular water cooler.
You will be able to ensure the safety of your water, as there is a lower risk of bacteria or contaminants being introduced to the water. Additionally, most bottleless water coolers are hands-free so that your employees are not accidentally transmitting bacteria or disease.
All of the water in your home or business that comes from your bottleless water cooler will be clean, fresh, and totally safe to drink.
Many businesses prefer to invest in bottleless water coolers after seeing the many benefits firsthand.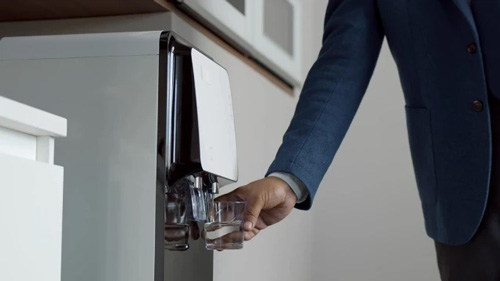 Are There Any Drawbacks of Bottleless Water Coolers?
Any time you make a purchase, it's important to thoroughly investigate both the upsides and the potential downsides. First, if you install a bottleless water cooler, you will need to have access to a water line. Your installer can help you determine the best placement and find a convenient spot to place your water cooler, but some businesses may be unable to install a bottleless water cooler as a result of this requirement.
Additionally, bottleless water coolers do require a certain level of maintenance. This is the same as traditional bottled water coolers that also require cleaning and repair to ensure proper function. You want to make sure that your water is clean and not being dirtied by debris or contaminants trapped in the system. One of the best ways to work around this is working with a skilled partner like Atlantic Blue Water Center for maintenance and repair. We are here and ready to help you!
Finally, the other potential drawback of bottleless water coolers is a higher upfront cost. Traditional water coolers are more affordable to set up for the first time because you do not have to worry about hooking up water lines or performing additional work. However, it's important to know that your ongoing costs are typically much lower. As a result, the temporary tradeoff in higher installation costs will often pay for itself in the long run.
Learn More About Hard Water, Copper, and Minerals with Atlantic Blue Water Center
We provide water treatment and water softening solutions for homeowners that want a cleaner water supply and water that is free from hazardous carcinogens that can contribute to increased cancer risk. We're also focused on providing additional education on water treatment, water quality, and issues associated with water contaminants. Call us at (410) 751-9200 to schedule your in-home water testing appointment today.