Finding the right water specialist can be a challenge. When people come into your home to perform tests or upgrade your current systems, you want to know they can handle the job. You also need to have confidence that the people you hire will enhance your home's water quality. Most residents don't know much about the water they drink and bathe with; they have to rely on others for expertise. Only a trained expert can reveal contaminants in your water, provide swift results and offer guidance. Unfortunately, some specialists and water companies care more about their bottom line than their customers. To find a reliable water specialist in your area, consider the following factors.
What to Look for in a Water Specialist
You may be tempted to choose the most affordable water specialist, or the one that offers the best discounts. However, making a quick decision based on price alone can be risky. Remember, it should be possible to find reasonably priced services that are also dependable. If you're looking for a knowledgeable water specialist, choose a company that offers:
State-Certified Testing
The company you pick should be able to provide proof that they're state-certified. In order to obtain certification, they must meet stringent qualifications first. Water testing laboratories must do the following:
Achieve state or EPA approval prior to analyzing water samples for the public
Successfully complete proficiency testing annually for each method
Utilize approved methods for water testing
Receive approval from on-site auditors on a regular basis
If you select a company that is state-certified, you can rest assured knowing their testing methods are sound.
A Good Reputation in the Community
Next, you'll want to check the company's reviews. These days, most people take to the internet to share their experience and provide feedback. Checking multiple review sites can help you gauge a business' reputation. A great water specialist doesn't necessarily need to have five star reviews across the board. Nevertheless, they should have a majority of positive reviews and respond to customer concerns promptly.
An Informative Website
Take a close look at your chosen water specialist's website and social media channels. If the site appears outdated or it hasn't been updated, their business practices could also be lacking. You should be able to find information about the company's origins, what specific services they provide, and key contact information. Some water specialists will go above and beyond by offering supplementary tools like solution centers. The more informative and detailed the site, the more likely it is that the business cares about its customers.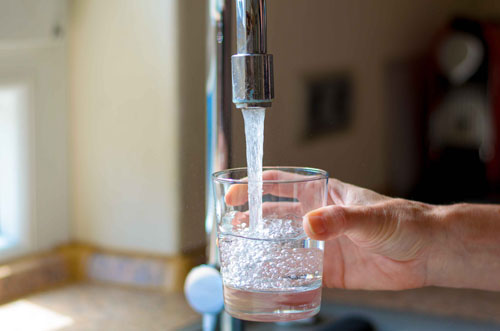 Workers Who Know the Business Well
How long has the company been in business, and what kind of experience do their water specialists have? What sparked their interest in the industry? At Atlantic Blue Water Center, our founder Mark Mather got his start in 1993 by working out of his basement. By 2017, his business had expanded to a 10,000-square foot facility equipped with a learning center and a full-service lab. A water company should show growth consistently; if not, they likely do not cater to their customers.
No High-Pressure Tactics
When your water quality is in jeopardy, you don't want salesmen coming to your door. You want responsible technicians who are friendly, supportive and can get the job done. Don't waste your time with water specialists who spend half their time trying to sell you treatment products. Before suggesting any water treatment options, your specialist should sit down with you to discuss your lab results and ask about your needs.
Still Unsure Which Company You Should Choose? Select Our Skilled Water Specialists Today
At Atlantic Blue Water Center, our water specialists are certified and experienced. You can count on us to expose contaminants, bacteria and viruses in your water. We also pride ourselves on making the water testing and treatment process stress-free. In fact, you don't have to schedule an at-home visit with us. Simply bring a water sample to our facility, and we'll take care of the rest. What's more, our basic laboratory testing is completely free. From there, our experts will help you make an informed decision regarding water treatment and maintenance.
Learn More about Our Water Specialists at Atlantic Blue Water Center
If you want to reduce your exposure to harmful contaminants, it's vital to filter your drinking water. At Atlantic Blue Water Center, we help our customers remove toxins and contaminants from their water supply. If you want to learn about the contaminants currently in your home's water, bring a sample to our storefront, and our lab technicians will perform an in-depth assessment of its quality.
We provide water treatment solutions like reverse osmosis for homeowners that want a cleaner water supply. We're also focused on providing additional education on water treatment, water quality, and issues associated with water contaminants. Call us at (410) 751-9200 if you'd like more information about our services.